I just had a movie marathon a while ago and i was really happy that i did. Honestly, i only used pirated compact discs because my ate bought one, you know the 10 in 1 kind. I find it really cheap and convenient since i can watch 10 movies with just a price of fifty to seventy pesos. But then again, you still have to observe its quality. I know... piracy is bad... but it just fells too good to resist.I have watched two movies:
Shrek Forever After
and
Alice In Wonderland.


Shrek of course, is really hilarious.
But i find it somehow, lacking of that spark. I remember when i had watched its first three installments, i almost laughed my lungs out.
But this time, i merely just smiled and uttered "haha" and that's all.
It seems like maybe tomorrow, i would even forgot I've watched it.
Maybe because the plot had focused more on the story itself than the humor, i cannot blame them. They must provide their audience a good synopsis since it's their final chapter.
But don't get me wrong. I still love Donkey with all my heart.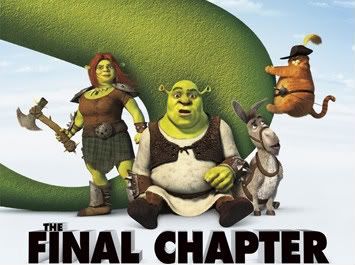 On the other hand, Alice in Wonderland is really awesome. At first, when Alice is still on the real world, i thought it would be boring and i even wonder not to pursue watching it. But when she have reached the Wonderland. Like i was just

wow.
Honestly, Alice in Wonderland used to be my favorite story next to Peter Pan.
The effects were so great i almost thought that Wonderland is true.
Well i always thought that way. I really believe that behind this reality, fairies and other mythical creature exist. Well you cannot blame me, i am a child raised with bed time stories. Well even now, i use to listen when my mom shares stories with my brother.
Maybe that's why my imagination is so broad, hehehehe, blame my mom.
For those people who have already watched Alice in Wonderland and found it so great, you might also want to check Bridge to Terabithia. It's really great too.